February 11, 2020 | Mark Andy Inc.
Mark Andy and Aldus Expand into Southeast Asia
Mark Andy is excited to announce an extended partnership for distribution across Southeast Asia with Aldus Tronics, a leading provider in flexo and digital printing solutions. The distributor currently represents Mark Andy in Australia and New Zealand and has been committed to serving their customers with the best solutions possible across many industry verticals including Graphics Machinery, Labeling, Coding and Marking since 1949.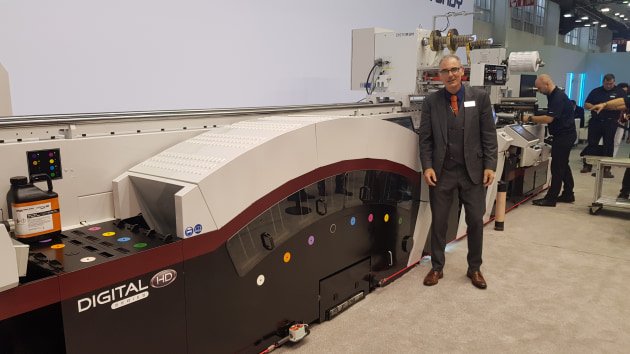 Pictured: Chris Bodger with Mark Andy's Digital Series HD at Labelexpo Europe 2019
Tom Cavalco, Executive Vice President International Business, Mark Andy, discusses the decision to expand the partnership with Aldus Tronics:
"Mark Andy was seeking a company with a strong understanding of our digital and flexographic equipment to best represent our interests in Southeast Asia. We found that in our existing trusted partner, Aldus Tronics. We're looking forward to working even more closely with our agents to best serve the Asia market."
Chris Bodger, National Sales Manager of Aldus' Graphics Division commented:
"We are very proud to be given this opportunity to further strengthen our relationship with Mark Andy and Rotoflex. I am especially looking forward to working with and supporting our customers in the SE Asia region. With 30 years' experience in the label printing industry, I live and breathe narrow web flexo and my passion is Mark Andy. Having worked for Mark Andy for many years as a printer and application specialist, I joined Aldus in 2006. Aldus have a strong presence and dedicated team of narrow web specialists in Australia and New Zealand. We are honoured to accept this fantastic opportunity to grow our business and will do so from our office in Kula Lumpur."
Aldus Tronics is a part of Mark Andy's strategic network of global partners specializing in the label and packaging industry. These relationships enable local representation and support on a global scale.