April 6, 2020 | Mark Andy Inc.
Subtle Impressions Doubles Down on Hybrid with Digital Pro Upgrade
North Carolina converter Subtle Impressions installed a Mark Andy Digital One in January 2019 to fulfill a need for a digital label solution, providing an alternative solution for the longer lead times typical with flexographic production.
After a year of production with the Mark Andy digital machine under his belt, Chris Brown, Co-Owner of Subtle Impressions, reflects that prior to 2019 their production mix lacked an asset that kept them profitable on low volume orders. These types of orders in the Subtle Impressions shop average 1,000 to 2,500 labels per run and vary across end use segments.
Brown noted that "all of the existing business that prompted us to buy the Digital One initially, we have absorbed and done business above and beyond that. It's been a great stop gap for us when our flexo press has been too busy." After experiencing success with the Digital One firsthand, Brown learned of the engine upgrade for their press. With easily identifiable avenues for additional growth given the features of the upgrade, the option to further enhance their digital business was of interest to the Subtle Impressions team.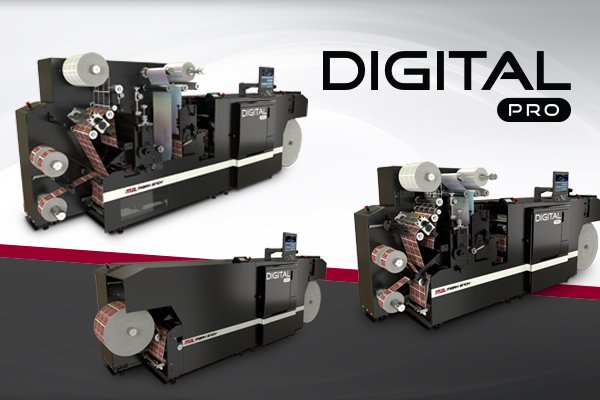 At a regional Mark Andy event in Atlanta, Brown was pleased to find out that the new Digital Pro product line offered more than standalone press solutions. In addition to the two press models, Digital Pro 1 and Digital Pro 3, an engine upgrade was launched to enhance existing Digital One customers machines. Engine upgrade benefits are numerous, delivering higher speeds, lower cost to print, and life expectancy extensions of digital assets.
The engine upgrade enables speeds of 77 feet per minute, a 70% increase over its predecessor as well as a 30% lower cost to print. Lower cost to print stems from toner consumption efficiencies of the new engine as well as higher yield on certain consumables native to the new platform. When weighing a new press acquisition against an upgrade to his Digital One, ultimately it came down to speed. "We looked at a few other digital machines that were just way too slow," Brown stated. "The new digital print engine is great from a quality standpoint, does not take up additional space on our floor, and has increased our capacity tremendously."
On the benefits of the engine enhancement in a real-time production setting, Melanie Hunt, Press Operator, recounts specific instances of time savings as a result of higher speeds and improved functionality:
"We have a customer who typically runs 14,000 labels that are three across and with the old engine I'd have to run in three batches because of the recalibration and diameter of the roll. Now I can get that produced in two batches. Not only does that have double the speed because it runs twice as fast, but it probably saves 20 minutes of changeover time between stopping and changing out material and laminate between batches."
When discussing why digital hybrid technology makes sense for Subtle Impressions, Brown  explains "What's nice about Mark Andy digital is that it is all inline. Faster throughput, less set up and clean up times and a bridge transferable skillset and training of the existing workforce are all benefits we see in digital hybrid technology."
The Digital Pro engine upgrade is one piece of the Digital Pro production label press product line, which consists of two models. Digital Pro 1, a base roll-to-roll solution designed for converters with a strong offline finishing workflows as well as Digital Pro 3, a true hybrid label solution enabling converters to print value-add labels for their customers. Both Digital Pro 1 & 3 are overprint enabled, meaning the platforms can identify and register to pre-printed media. Both share a common  future-proof platform design, with field integration of new advancements being compatible and accessible to existing installations now and into the future.