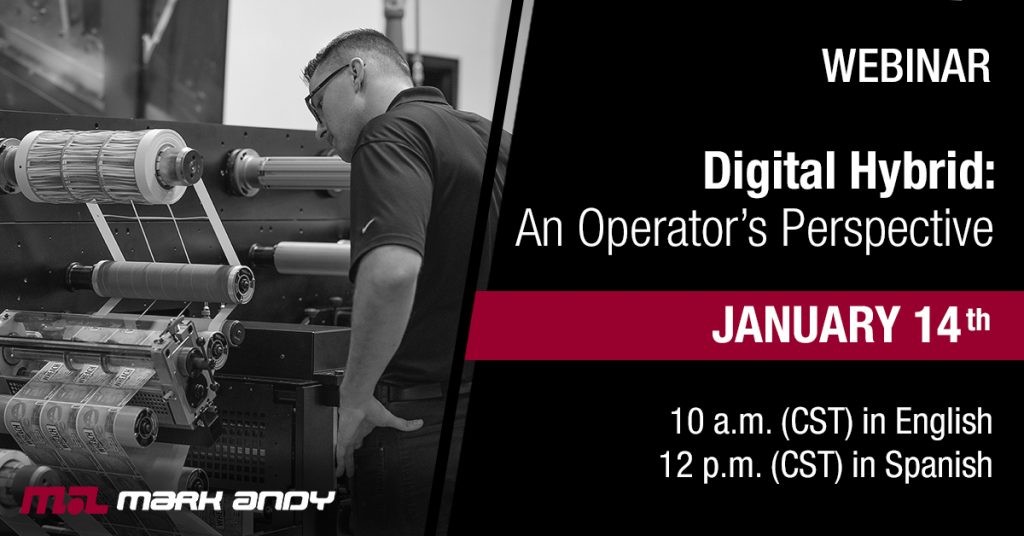 Webinar – Digital Hybrid: An Operator's Perspective
Jan 14, 2021
Incorporating digital printing technology proves to be one of the most effective ways to remain competitive and to up-to-date in an industry that is constantly evolving to be more efficient.
Even with the data to support the shift towards digital label printing, many flexographic converters and operators haven't embraced the technology, for a myriad of reasons: status quo with existing equipment, budgetary and training misconceptions or they're simply unaware of the benefits of digital printing.
Does any of that sound familiar to you? Or would you like to learn more about what an actual press operator thinks of digital printing? Then Mark Andy's "An Operator's Perspective on Digital Hybrid" webinar may be for you.
In this webinar, expert operators will discuss the common questions and concerns of adding digital printing to the pressroom, their perception of an operator's learning curve, and their overall experience of implementing this new technology and printing process in their workflows.
We will host two sessions:
10 a.m. (CST) | 5 p.m. (GMT+1) in English
12 noon (CST) | 7 p.m. (GMT+1) in Spanish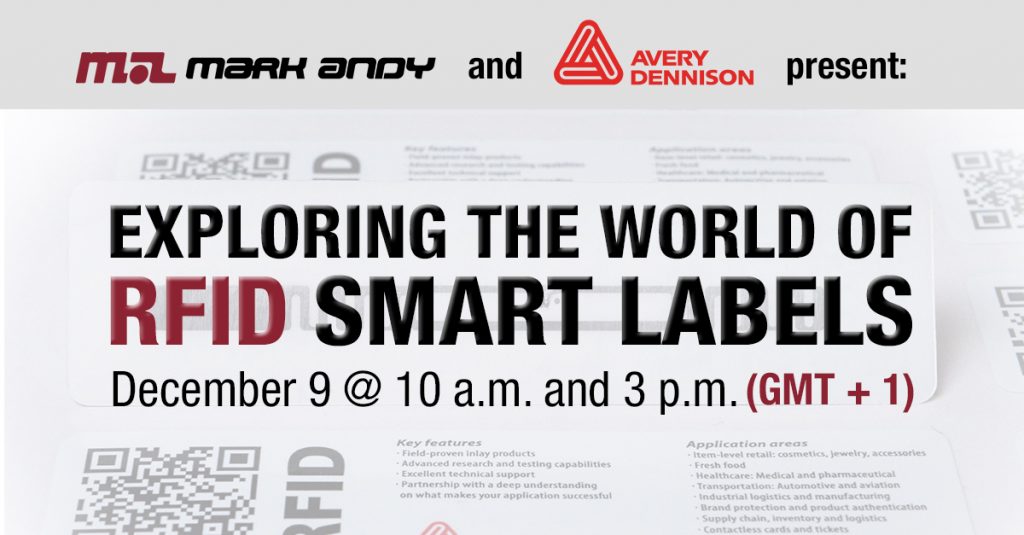 Exploring the World of RFID Smart Labels
Dec 9, 2020
RFID technology allows you to read and transmit data by radio inspection. Depending on the type of tag and the processor placed in it, it is now used in many different areas of life.
As RFID technology is increasingly utilized by brand owners in various market segments, label manufacturers have additional revenue streams within their reach – with the right equipment.
Join us for the "Exploring the World of RFID Smart Labels" webinar on 9th December, offered at two different times: 10:00 a.m. (GMT+1) in Polish and 03:00 p.m. (GMT+1) in English.
During the webinar, Mark Andy will run RFID Labels on our new Evolution Series E5 on Avery Dennison products from the range of "smart labels". They are gaining increasing popularity in various areas of life around the world.

Digital Packaging Summit

Dec 1

-

3, 2020
Mark Andy is a sponsor of the Virtual Digital Packaging Summit. Please join us for this event which was created for business executives who want to understand how current and future digital production printing technology, software and solutions will impact their business and investment decisions. This summit offers strategic-level insights into what printing and converting industry leaders should do to improve and optimize their business.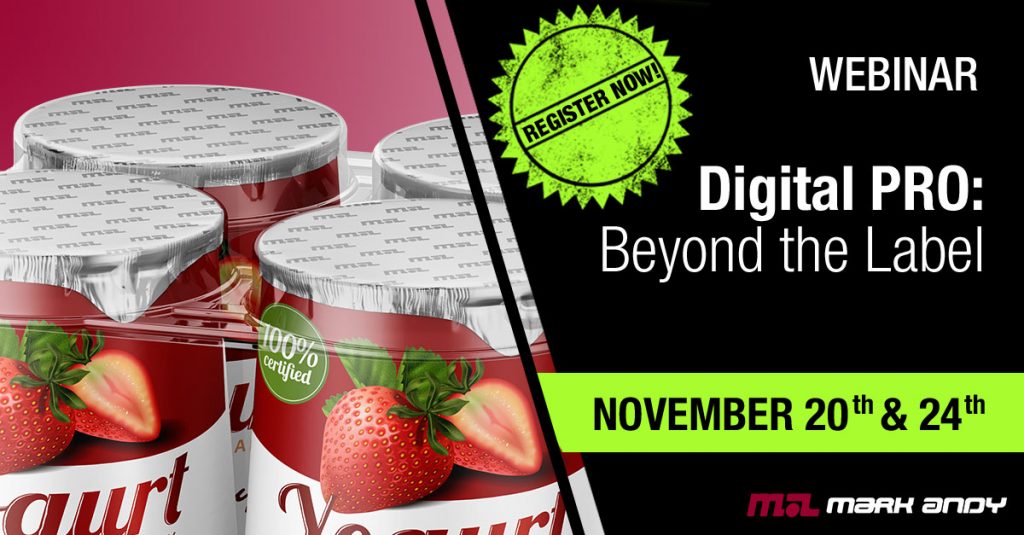 On-Demand Webinar: Digital Pro – Beyond the Label
Nov 20, 2020
Every day we talk with converters around the world who are pushing boundaries in label production to increase revenue. Truth be told, there is only so much you can do without exhausting your resources – whether this means your presses, your time, or your people.
At the end of the day, there are only two ways of growing your business. First, selling more to current customers. Second, acquiring new customers.
You may not know, but there is a huge overlooked opportunity in the category for non-traditional applications, with customers ready to open their wallets and invest thousands of dollars in tags, wristbands, wedding invitations, and more.
This is the reason we are hosting "Digital Pro: Beyond the Label" webinar, to explain exactly how you can get your share of the pie.
The quick and easy set-up of Digital Pro makes the press ideal for short run and custom jobs that allow converters to 1) offer new solutions to their current customer base, and 2) tap into new markets and prospect new customers, resulting in increased revenue and profitability.
In the "Digital Pro: Beyond the Label" webinar, our presenters will:
– Dive into all the non-traditional applications you can do with a Digital Pro
– Discuss how Digital Pro can help you increase profitability with non-traditional applications
– Show simple press upgrades and how they can help you gain leverage
– Address the consumables and materials involved in non-traditional applications
– Run a couple jobs from our demo room in Poland and the U.S.
If you can't make the scheduled time but would like to join us, go ahead and register anyway. We will send you a recording of the complete webinar.
AWA International Sleeve Label Conference & Exhibition

Nov 16

-

17, 2020

|

Cincinnati, Ohio
The AWA International Sleeve Label Conference and Exhibition – short ISLCE – is the only dedicated conference addressing this brand enhancing and fast growing method of labeling and product decoration. The conference brings together experts in their respective disciplines and addresses key issues and opportunities for the industry across the value chain and across the globe.
The AWA International Sleeve Label Conference & Exhibition is your opportunity to network with the right partners and customers for your business. ISLCE 2020 will feature exciting keynote speakers, panel discussions, exhibition and networking sessions, and the presentation of the AWA ISLCE Sleeve Awards. The conference will also include the Steinhauser's Facility Tour (Optional) and the special Facility Tour (return transport provided) at Verst Group Logistics!
TLMI Annual Virtual Meeting

Nov 11

-

12, 2020

|

Colorado, United States
The two-day online event helps you stay up to date and inspired with informative educational programming and enlightening guest speakers, all addressing pillars of the TLMI strategic plan, including workforce development, external affairs, sustainability, communication.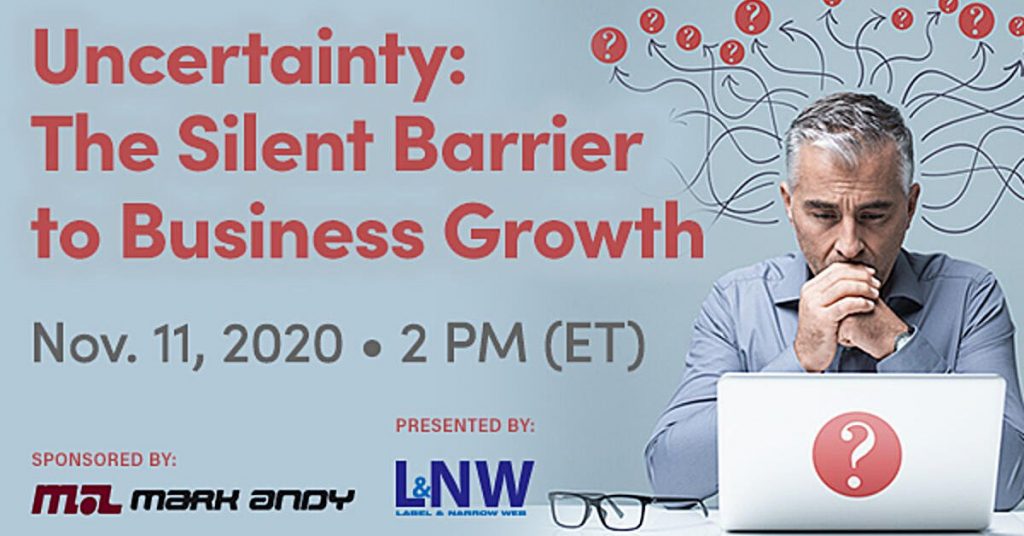 Uncertainty: The Silent Barrier to Business Growth
Nov 11, 2020
While societal and economic questions persist, label converters have the opportunity to modernize their pressrooms at an affordable price point. Mark Andy, a global printing press manufacturer, is joined by converters to discuss the buying process and how printers can upgrade to next-generation technologies to meet increasing demand.
Digital Pro – A New Path to Profitability
Oct 1, 2020
*NEW DATE* Thursday, Oct. 1
If in the past we would think about what converters could create with our products and sell presses to customers, now the focus is on what our machines can do for the overall business to ensure growth and profitability.
High-quality results with digital printing has become the norm, and what converters need right now are presses that can really take some of the load off their shoulders and become their right-hand man in the pressroom, allowing them to save time and money that can be reinvested in growth.
That's why Digital Pro exists – to propel businesses forward.
In this webinar, we will discuss technical aspects of the Digital Pro and show how they benefit pressrooms when it comes to profitability, productivity, and flexibility – and then top it off with a live demonstration of two completely different jobs in our demo room.
Our presenter, Kristen Schulte, Digital Program Manager will address:
– Digital Pro as a new path to profitability
– Digital Pro application potential
– Digital Pro main system specification
– Digital pro future-proof configurability
Our demo room staff will run the machines live and respond live to any questions.
We are hosting this webinar on two different days and times to accommodate as many participants as possible. Make sure to choose the most convenient date upon registration.
We look forward to seeing you live!
FIG Webinar
Jul 24, 2020
Join us virtually to learn about the Mark Andy Digital Solutions & Hybrid Technology. The webinar will begin at 2 p.m. GMT
Gutenberg GalaMay 28, 2020

|

Montreal, Canada