Tint Sleeves to Fit Your Application
Tint sleeves (or flood coat rollers) slip over tint sleeve mandrels to fully cover the web with a continuous uniform solid color, UV varnish, adhesive or primer. Our team of experienced supply experts is dedicated to assisting you with the right choice for your specific applications. We offer tint sleeves that:
Range in sizes from 1.125" x 1.625" to 5" x 5.5" in various durometers and compounds to match your most demanding applications
Can be bundled in complete tint sleeve systems that include air assist assemblies for ease of installation, tint sleeve mandrels, tint sleeve cutting kits, and lock collars to prevent shifting.
Specialized compounds to decrease "orange peel" effect and provide a smooth laydown of your ink or coating.
Mark Andy Flexo Line Card
Access a complete listing of the different types of doctor blades we offer to fuel your equipment.
View Line Card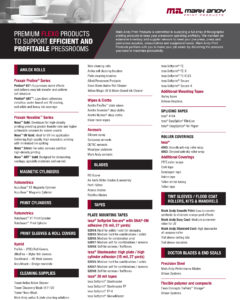 Dr. Flexo on Tint Sleeves
Dr. Flexo explains the different tint sleeve options Mark Andy Print Products has to offer.
Watch Watch Video
The Mark Andy Print Products Advantage
An efficient supply chain, easy online ordering, and rapid delivery, as well as regional application specialists, make Mark Andy Print Products a complete resource for our customers.
Watch Watch Video