An Attainable Inkjet Platform with Inline Processing
Maximum Performance
Digital Series iQ is a fully integrated digital hybrid solution with production speeds up to 230 FPM. That means zero throughput compromise for inline decorating and converting - a gamechanger for profitability metrics.
Affordable Productivity
An attractive investment level and low cost to print position Digital Series iQ as the ideal solution for converters interested in single pass, production-level digital hybrid printing.
Future-Proof Options
Digital Series iQ provides options to grow with your investment through the flexibility provided by Mark Andy Evolution Series technology. This platform unlocks the hybrid capabilities needed for success at any point in your business.
Expanded Range
With a large library of validated materials and up to 7 UV inkjet colors (CMYKOV+WW), Digital Series iQ enables a wide range of label and packaging applications.
Efficient Die Cutting
The utilization of VDC-SR allows for pressroom efficiency by slashing changeover time by 80%, freeing up operator availability for increased throughput.
Guaranteed Support
Our team provides comprehensive training through the entire product lifecycle: before, during, and after installation. Beyond technical assistance, the Mark Andy team will work with you to optimize internal processes and business development strategies around your new technology so you can generate more work and revenue with less time, labor, and waste.
Uncover Your Potential with Digital Hybrid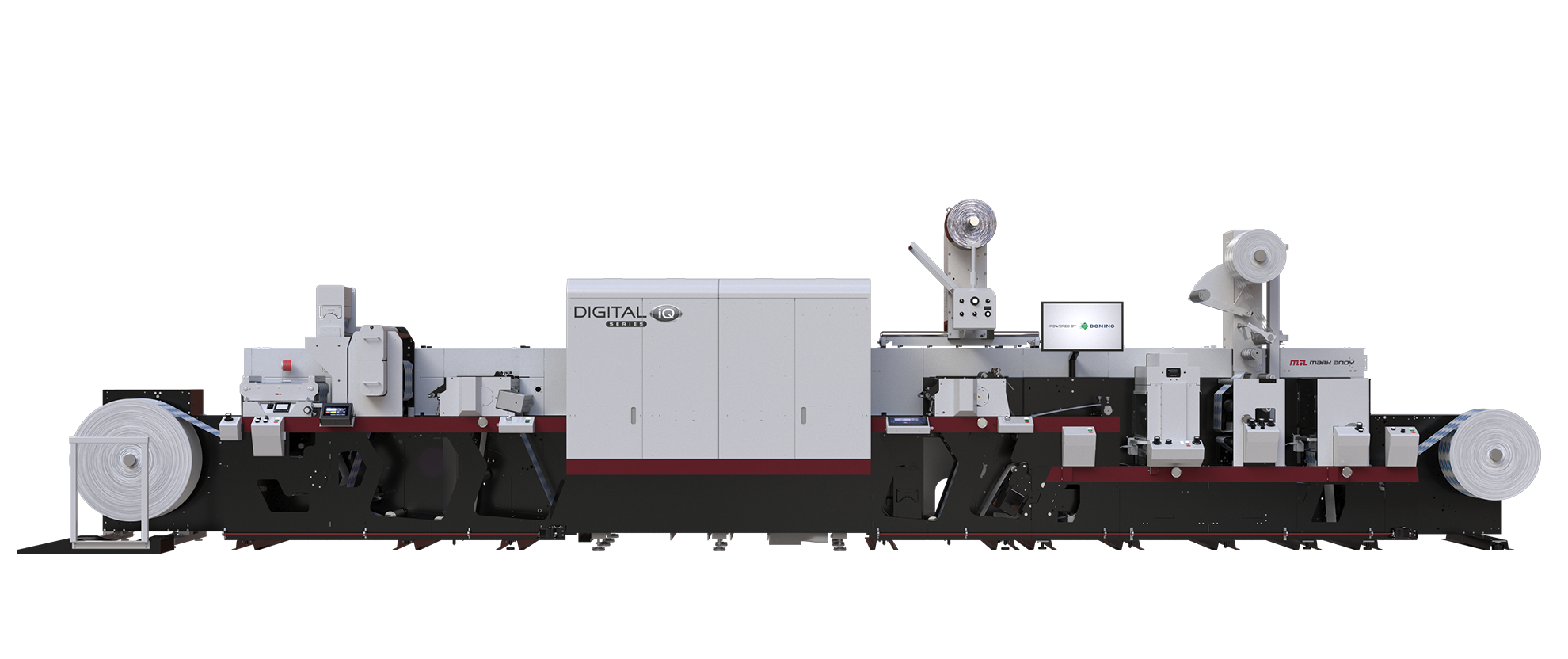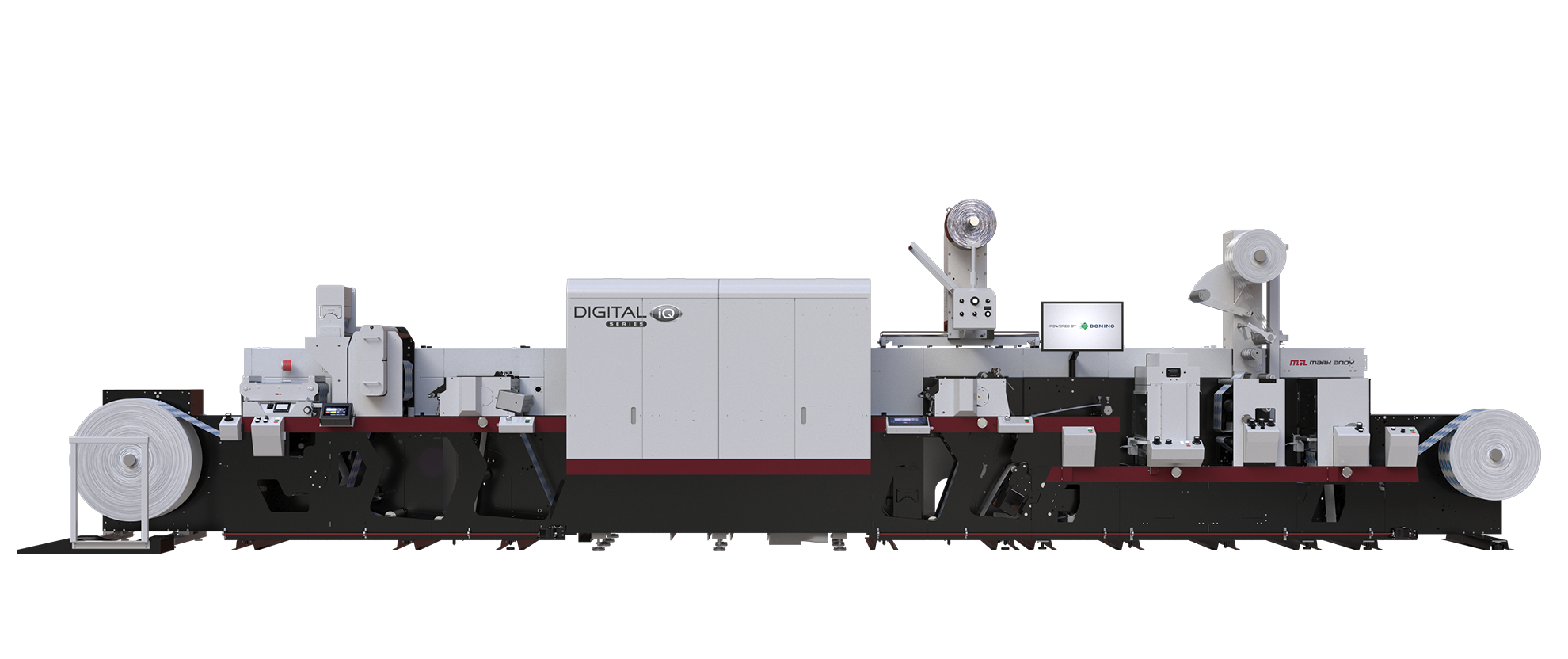 Technical Specifications
CMYK +WW UV Inkjet Powered by Domino
(OV Upgrade Available)
600 x 600 dpi native Kyocera print heads
High-Quality Mode: Up to 164 fpm (50 mpm)
High-Speed Mode: Up to 230 fpm (70 mpm)
Esko DFE
Mark Andy ScreenPro
13 inch (330 mm) max
8 inch (203 mm) min
24 inch (610 mm) maximum repeat in full rotary or semi-rotary mode
Pressure sensitive papers and films, unsupported papers & films, tag stocks, light carton and more
Optimal temperature range: 68-72°F (20-22˚C)
Ink Storage: 68-77°F (20-25˚C)
Humidity level range: 40-60%
Dust controlled environment
Unwind and rewind: 40" diameter (1000 mm)
Maximum roll weight: 100 lbs (300 kg)
Mark Andy Announces Launch of Digital Series iQ
The innovative partnership between Mark Andy and Domino brings converters Digital Series iQ, an attainable inkjet platform with inline processing.
Read More on the Newest Digital Hybrid Solution
Digital Series iQ Virtual Debut Event
Join Mark Andy and Domino as the two trusted-industry voices unveil the label and packing industry's newest digital hybrid solution: Digital Series iQ.
Watch Watch
Digital Label Production, Affordably
Having the right equipment that allows you to service to a larger segment of the label market provides maximum profitability. Having the right partners by your side means the sky's the limit. Built on a proven Evolution Series flexo platform for inline decorating and converting, powered by a robust Domino N6101i UV inkjet module, Digital Series iQ boasts digital brain power and Mark Andy converting excellence.
Pressure Sensitive Prime Labels

Shrink Sleeves

Durable Tags & Labels

Light Carton

Variable Data Printing

Specialty Goods

Health & Beauty Market Segment

Industrial Labels

Film (Supported & Unsupported)