January 15, 2020 | Lena Chmielewska
Flexprinter Gears Up for Label & FlexPack Production with P7E
One of the young and most dynamic narrow web converters in the Benelux, Flexprinter has chosen to grow its business with a Mark Andy P7E at its modern production facility in Nazareth, Belgium. This start-up operation, which is the brainchild of owner and Managing Director Michaёl Thorrez, has chosen to focus on the roll-to-roll production of labels, pouches, sachets, shrink sleeves, and flow packs, as well as other flexible packaging.
Thorrez explained his reasoning: "The market for self-adhesive labels is highly competitive with many converters working local to us – so I looked for opportunities to convert other work that could be produced cost effectively in one pass on an inline press, and flexible packaging was the most obvious."  The problem was to find the best press to use for the work, and it needed to be a good allrounder because Flexprinter works with a variety of substrates from paper to mono film and foil, and many in combination to provide barrier properties, as well as biodegradable film.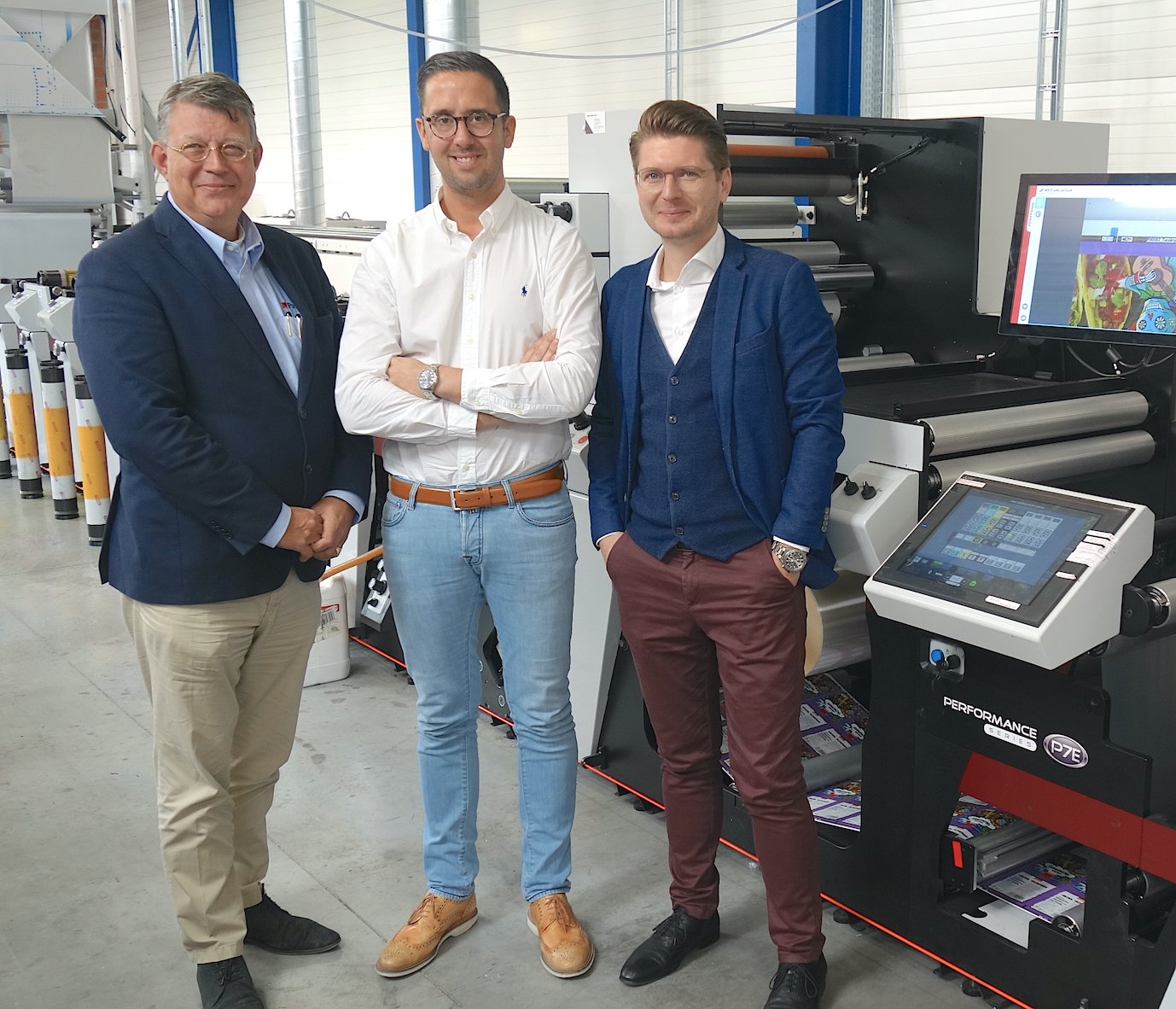 Although previously from a mid-web offset background, Thorrez decided the way forward was with flexo, and although he considered a number of manufacturers, Mark Andy stood out in his mind as the most fit for purpose. "We ran print tests at their demonstration facility in Warsaw and spoke with a number of Mark Andy users before committing ourselves to an order – but it was clear early on that the only decision we really had to make was not the brand but the specification," he added.
The Performance Series press he chose was a 22" (560mm) P7E, which was installed in May 2019. It is a 9-color machine fitted with full GEW LED-UV curing, a Vetaphone Corona treater, turn bars, Mark Andy's laminating unit, and is the first 22" P7E in the Benelux, according to Mark Andy's distributor Maarten van Bergeijk of Packtion, giving Flexprinter an extended capability to add value to products produced in a single pass.
According to Thorrez, who had flexo experience prior to his recent offset work, the benefits are the greater stability, significantly lower waste, and quality that the process offers, with more vibrant colors that are consistent throughout the run.  Also, flexo overcomes the potential adhesion problems that can be encountered on difficult substrates when printing offset. "There is a far lower energy requirement with flexo, especially with LED-UV, and we print wet on dry as opposed to wet on wet with end of press drying.  This is essential with products like IML, where any residual water causes major problems with downstream label application.  I just prefer the simplicity and reliability of the flexo process – it makes sense and gives a better ROI," he explained.
MichaÑ'l Thorrez' first thought had been a 100m/min digital press, and while the market is moving in this direction, he knew that as a start-up company his investment would need to earn money from day one. "Digital inkjet technology interests me because of its capacity to personalize short runs, which I'm sure is growing in demand, but for the work I'm looking to produce it is unproven and an established process like flexo, with the state-of-the-art technology on the Mark Andy, was a better business proposition."
In addition, print samples had shown that the heavier weight of ink used in the digital process leads to cracking on certain substrates, and without a low migration option and restricted color gamut, Thorrez quickly refocused his attention on flexo.  "In any case, I was looking at longer run work, which is one of the reasons we opted for a 22" web width machine, not the 17" we had seen being demonstrated in Warsaw – it's just a better fit for us."
Flexprinter now finds itself competing with CI-flexo and offset presses producing similar work but delivers consistently higher quality and offers fast turnaround production.  With the greater flexibility that the inline process offers for added value in one pass, Thorrez says he is very competitive.  "Typically, we are looking at jobs of 2,000 to 100,000 linear metres and can offer UV or solventless lamination at a very attractive price.  This is useful for IML jobs, which have to be dishwasher-proof and scratch resistant, and we're looking to run these off at around 220m/min."