October 25, 2017 | Mark Andy Inc.
Digital One Celebrates One Year in Market
September 2017 was an important milestone for Mark Andy, marking one year since the Digital One was released into the market. Debuting at Labelexpo Americas 2016, the press has continued to captivate label producers in a variety of industries and segments.

The Core Digital One Launch Team. From left to right: Chad Bryant, Dave Kibblehouse, Paul Higgins, Alex Zimmerman, Verlon Curd, Megean Speak, Tim Brasher, and Tony Chu.

Digital One was born after the Mark Andy development team sat down and interviewed 147 customers and asked them what it would take to create a practical digital label press for the everyday converter. Customers in the study were from all around the world and managed different types of print shops, but according to Tim Brasher, Director of Business Development, Mark Andy, responses from all parties carried the same tune.
Key pain points of the market segment were uncovered, where partners of the press manufacturer shared they were tired of losing money on outsourced work and could no longer be competitive on new short-run bids. "I heard time and time again label converters needed a profitable way to stay competitive on delivery times, free up their flexo presses for long runs, and reduce costs on materials for their short runs." Brasher shared.
In the end, Mark Andy uncovered that the typical converter needed something affordable to buy, dependable to run, and profitable to operate. After examining the interviewees' prime label work, the company developed a configuration that has been proven to support over 80% of prime label applications. Looking back a year later, results from the install base prove Mark Andy was on the right track. A customer in Denver reports "Overtime is non-existent, sales are up, and plate spend is down 18%."  Another advocate and owner of the entry-level solution, Rami Akhras of Labels Unlimited provides "The true value of this press is the ability to completely use our existing material. 1,000 feet of the leftover substrate from a flexo press is no longer waste and can be used on the digital. We don't need to buy any media specifically for this press."

Mark Andy Digital One was formally launched at Labelexpo Americas in 2016
Tom Schelmbauer, VP of Engineering, Mark Andy commented that "from the beginning, we believed label converters would value the ability to run standard flexo materials instead of specially primed material. So our New Product Development team leveraged our web handling expertise to create proprietary tension control systems. Because of that, we are the only entry press on the market that can handle unprimed media as narrow as six inches." The company is also proud to announce the release of special die tooling adapters that customers can purchase to get more mileage out of legacy tooling- both narrow versions of OEM and competitive tools.
Since launching in Fall 2016, over 60 all-inclusive printing and converting units have been sold. Production crews, based out of Mark Andy's global headquarters in Chesterfield, Missouri USA, are building and shipping 2 units every week to keep up with the demand. When speaking to the overwhelming response of the product, Brasher shared "Global adoption and interest in the press have been terrific. We have installations in Chile, Canada, India, Ireland, Poland, Australia, and sales with forthcoming installations in Armenia, Azerbaijan, Belgium, England, France, Georgia, India, Italy, Scotland, and Spain yet this year. We are excited to be busy and even more excited about the amount of product and profit our owners are experiencing off this press"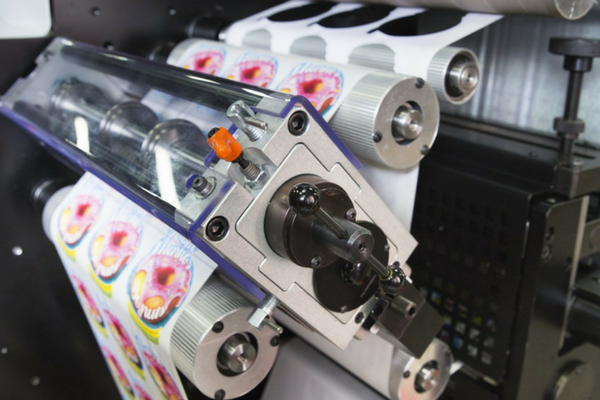 Digital One provides inline converting and finishing
Part of Digital One success across a range of markets is the technical versatility of the press. Schelmbauer noted, "we figured the price of the Digital One would attract interest from different markets, so the machine was designed to combat many different applications." An important application capability to note is in-line sheeting with die-cutting, known to be crucial to those who manufacture drum labels or "stickers" for retail sale.
When asked about why the Digital One has seen such rapid sales, Brasher evoked that "The modern state of label printing is not new to anyone; run lengths are shrinking, competition is increasing, print quality is crucial, and customers require shorter lead times. Digital One is a practical digital prime label press for the value investor looking for profitability in the modern state of printing."

About the Author
Chandler Davis is a Marketing Specialist at Mark Andy based out of the company's global headquarters in Saint Louis, MO. She is a University of Missouri graduate with a passion for social media, packaging design, and all things printing.