February 14, 2020 | Mark Andy Inc.
Specialized Marking Systems Increases Capacity with Digital Pro Upgrade
Specialized Marking Systems, an Ontario based converter has upgraded its Digital One to the new Mark Andy Digital Pro engine to increase capacity and expand its overall digital label business. Over a year post-installation of the Digital One, the choice to upgrade to the new engine was made with the success of the Digital Pro predecessor in mind.
Speaking to the decision to upgrade their engine to Digital Pro, Imran Fancy, Owner, Specialized Marking System, comments, "The Digital Pro field upgrade could not have come at a better time for our business. Our current Digital One is at full capacity, and we wanted a solution that gave us more capacity along with cost savings. The upgrade completely fit our needs, the 70% increase in speed and 30% lower cost to print gives us even more ability to say YES to our current and new customers needs."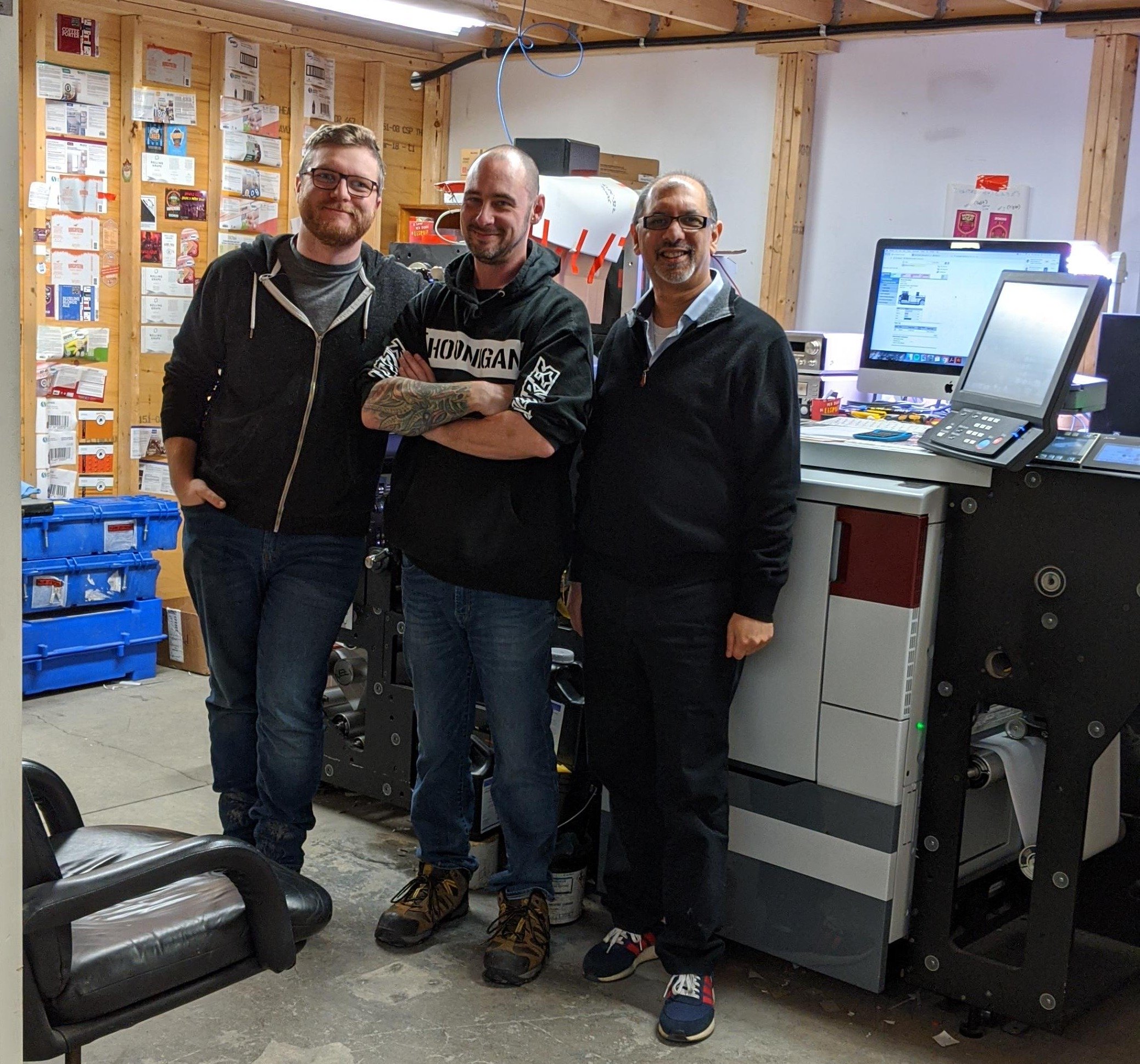 Specialized Marking System's Owner Imran Fancy (right) with his production team and the company's upgraded Digital One.
Digital Pro is the latest hybrid product line from Mark Andy and comes to market with two models, the roll-to-roll Digital Pro 1 and the advanced in-line converting Digital Pro 3 – available with semi-rotary die-cutting. Through a field upgrade program, select Digital Pro machine benefits are available to Digital One customers, enabling Specialized Marking Systems to print at speeds of 77 fpm, increase capacity, and reduce their cost to print.
The decision to upgrade to the Digital Pro engine came after an extremely successful 18 months with the Digital One. Within 6 months of owning the press, Specialized Marking Systems was able to completely fill one shift on the digital hybrid press without making a single sales call.
Along with winning new business because of the added flexo capabilities, they were able to migrate shorter run work off of their existing flexo presses onto the Digital One. Fancy states, "Adding the Digital One gave us the opportunity to grow the business and better meet our customers' needs. We've been able to say yes to rush orders, enter new markets and better serve our existing customer base."
The hybrid elements of the Digital One have been essential to the company's productivity and profitability. Over 75% of the labels run on the press utilize lamination or some type of flexo embellishment. Cold foil, a decorative embellishment enabled by the flexo station of the hybrid press, is a key component to the company's ability to enter new markets, with new business generated in the competitive wine industry.