October 16, 2018 | Lena Chmielewska
European Students Design Flexible Packaging
As part of our strategic program to educate the printers and converters of tomorrow, the Mark Andy Europe team launched a design competition for students earlier this year. The aim was to encourage young people from all over Europe who are studying any subject related to art, design or printing to submit designs for labels to be printed at Mark Andy's Power of Hybrid Forum in Warsaw, Poland.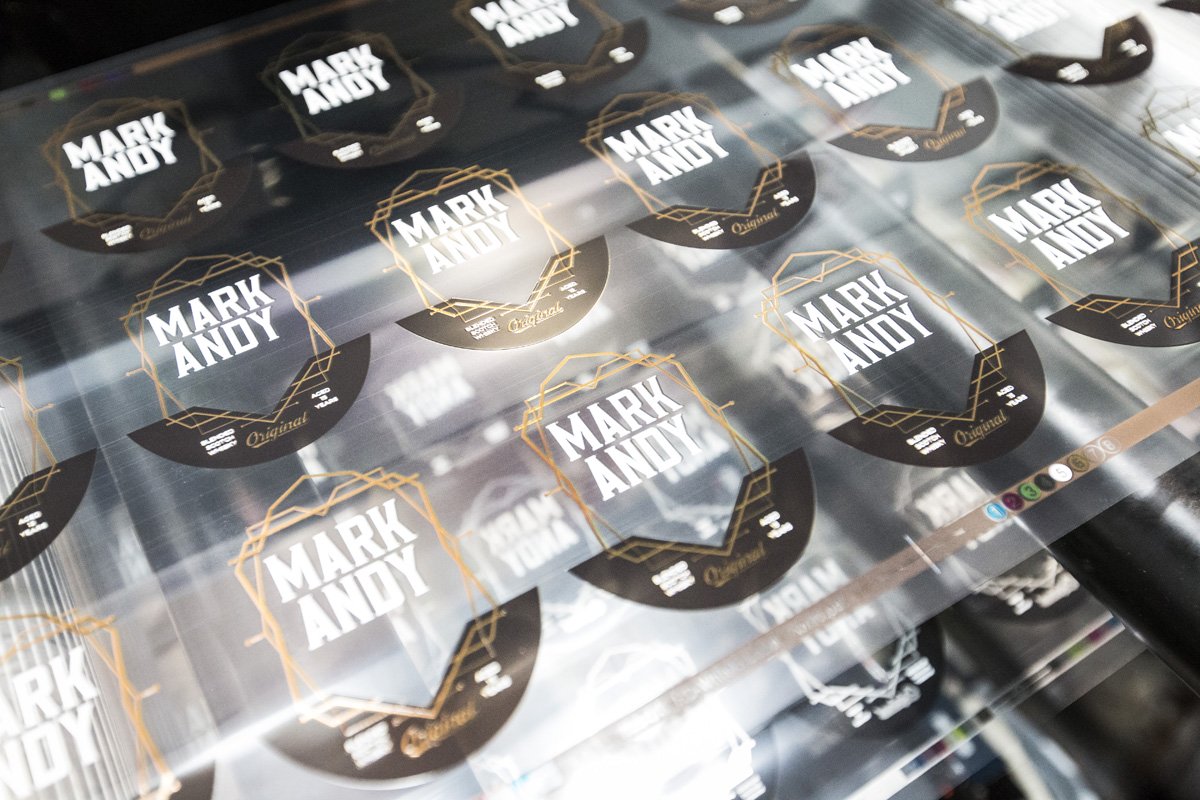 Kevin Wilken and Tom Cavalco pose with winning students Olena Onyshchuk and Lydia Haussmann
Students could choose to design a label that would be printed flexo or digital hybrid, and the standard of entries in this the first year was very encouraging. After careful scrutiny of entries, the judges decided there should be two winners, both in the flexo category. The prize was to have their label printed and displayed at the three-day event, where it was seen by more than 300 labels converters. The flexible packaging print samples, one for a coffee bag and the other for a muesli bag, will also be displayed on the Mark Andy stand at Labelexpo Americas in Chicago later this month.
The two lucky winners were Olena Onyshchuk, from Kiev, Ukraine, who is a big fan of animation and hopes to pursue this in her studies, and Lydia Haussmann from Stuttgart, Germany, where she is attending one of Europe's most famous print universities and studying package printing and new print solutions. Both designers were warmly applauded by the visitors to the Open House, and in the evening we took them out to dinner. Our entire team was keen to learn more about these talented and driven individuals.
As organizer of the competition, I was very pleased with the first year entries. A big congratulations is in order to both Olena and Lydia. It's incredibly encouraging to see the promising talent coming up in ranks in Europe who will take the industry forward. The team here in Warsaw intends to develop this program's reach beyond Europe in 2019 and we hope even more students take advantage of the opportunity.
For more information on our Power of Hybrid Forum, check out our recap blog post.
About the Author
Lena Chmielewska, Marketing Manager, Mark Andy Europe, is focused on finding solutions that provide success to label customers. With extensive flexo printing and plate making experience, she's knowledgeable in the label, packaging, and corrugate markets and understands the ever-evolving demands.