August 29, 2019 | Mark Andy Inc.
Mark Andy to Debut New Digital and Flexographic Technology at Labelexpo
Innovations come in the form of roll-to-roll and advanced inline digital hybrid, digital print width enhancements and servo-driven flexo offerings.
2019 has proved to be a year of engineering innovation with Mark Andy highlighting four product releases at Labelexpo Europe 2019.
Making its European debut is Mark Andy's Digital Pro line, a modular entry- to mid-market digital system. On stand 4C45, Labelexpo attendees will see live demonstrations of Digital Pro 3, the advanced inline converting model fitted with semi-rotary die cutting. The roll-to-roll configuration, Digital Pro 1, will also be on display on stand 8A60, extending Mark Andy's presence to the "Digital Hall" for the first time. Printing at 23.4 mpm (77 fpm), the new product line comes provides production-level speed for all applications in addition to a low cost to print, giving companies priced out of production systems the opportunity to benefit from digital.
Pictured: Digital Pro 3 with semi-rotary – a configurable inline CMYK digital hybrid toner press
Digital Series HD, a 7-color UV inkjet press with QCDC-SR, Live VDP and StitchAI will be making its first appearance in Brussels since launching in spring of 2018. Mark Andy's full-production true hybrid digital inkjet system is now available in 430 mm (17 inch) web-width, and will be demonstrated four times daily, with special demonstrations highlighting its high-speed shrink sleeve capabilities.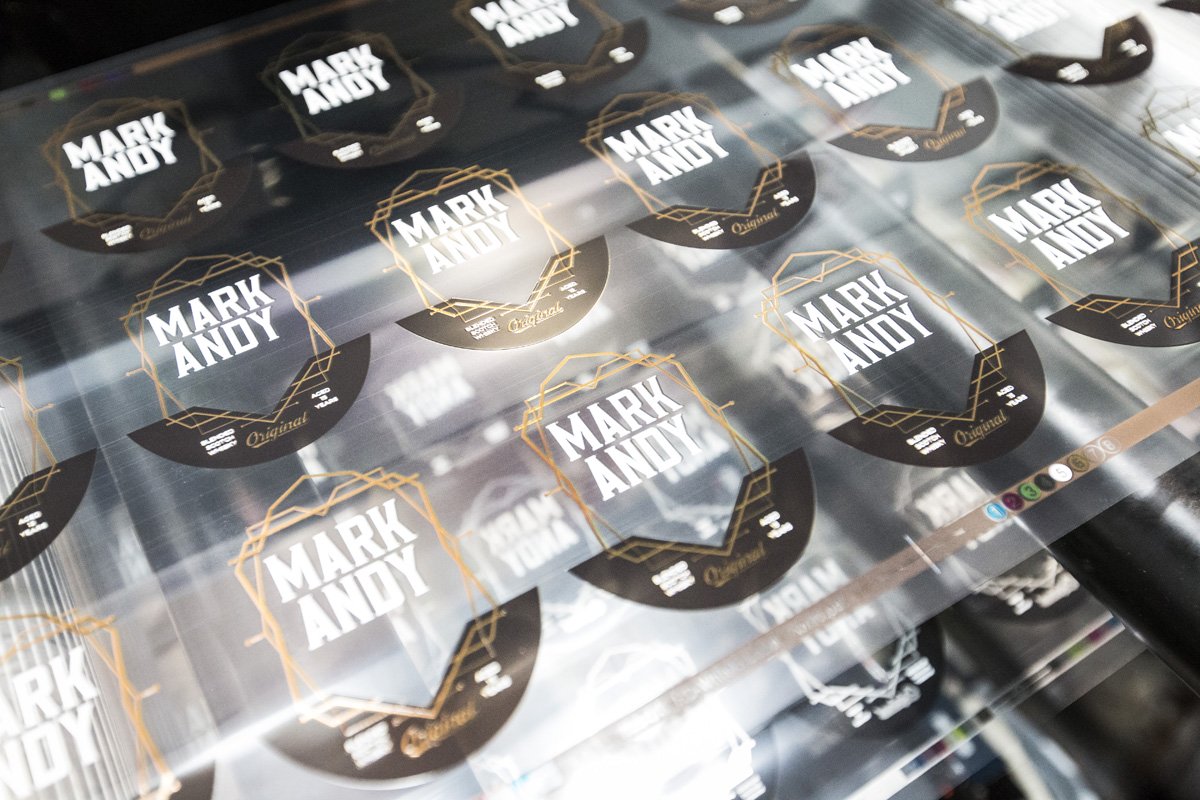 Labels with high-opacity digital white printed on Mark Andy Digital Series HD 
The newest iteration of Mark Andy flexographic technology will make its worldwide debut at Labelexpo Europe. This dual-servo driven label press is the result of a dedicated flexo engineering team, lean manufacturing and customer input, and will be unveiled live for Labelexpo Europe attendees during the show.
Representatives from Mark Andy Print Products Europe will be on-stand during the show. Mark Andy Print Products, now supporting European converters and customers, offers all essential flexo pressroom consumables, including, plate mounting tape, doctor blades, anilox rolls, splicing tape, pressroom chemistry, and more.
New innovations, high-end applications and a robust hospitality experience make booth 4C45 and 8A60 must-visit locations during this year's show. If interested in scheduling an on-stand consultation with Mark Andy, please follow the link.
About Mark Andy Inc.
Mark Andy is a pioneer of the graphic arts and printing industry. As the world's leading manufacturer of narrow- and mid-web printing and finishing equipment, it supplies leading global brands, including Mark Andy and Presstek printing presses, Rotoflex finishing solutions, as well as a complete line of Mark Andy Print Products consumables and pressroom supplies. All products are backed by the largest customer support team in the industry, minimizing downtime and helping customers be profitable, efficient and at the forefront of innovation. Mark Andy does what it takes to understand each customer's unique business, the challenges they face and the pressures they feel. It strives to provide products and services that help customers solve their problems and solutions that go a step further, allowing them to excel in their day-to-day operations, ultimately increasing productivity and reaching their full potential. For more information, visit www.markandy.com.