December 7, 2018 | Amanda Flower
[Webinar Recap] Using Digital Hybrid To Exceed Brand Expectations: As Told By Twitter
Didn't get the chance to tune into packagePRINTING's webinar for converters? Don't worry – we have the recap, as told by Twitter, below.
Sponsored by Mark Andy and hosted by packagePRINTING, the webinar – A Converter Perspective: Using Digital Hybrid to Exceed Hybrid Brand Expectations – focused on two industry printers and how they utilize digital hybrid technology to deliver on cost, color, customization and more for their customers.
A common theme throughout the webinar was that flexo and digital are no longer viewed as competing technology. Instead, we focused on two pieces of printing tech that have started working together to give converters the ability to profitably meet the evolving demands of their customers.
Adcraft Labels was able to open the door to customers unable to previously purchase decorative labels with their acquisition of a Mark Andy Digital Series, and most recently a Mark Andy Digital Series HD.
Those who listened in on the webinar had the good fortune of hearing from two panelists: Brad Knoth, President, Advantage Label & Packaging and Debbie Gilbert, Co-Founder and President, PRX Print.
Both focused on their entry to digital and how the press technology has evolved their business.
With two different backgrounds, it was interesting to gain insight on how each panelist described their utilization of their hybrid presses. Gilbert has mastered the ability to maximize the Digital One's penchant for short run jobs and fast turn-around times.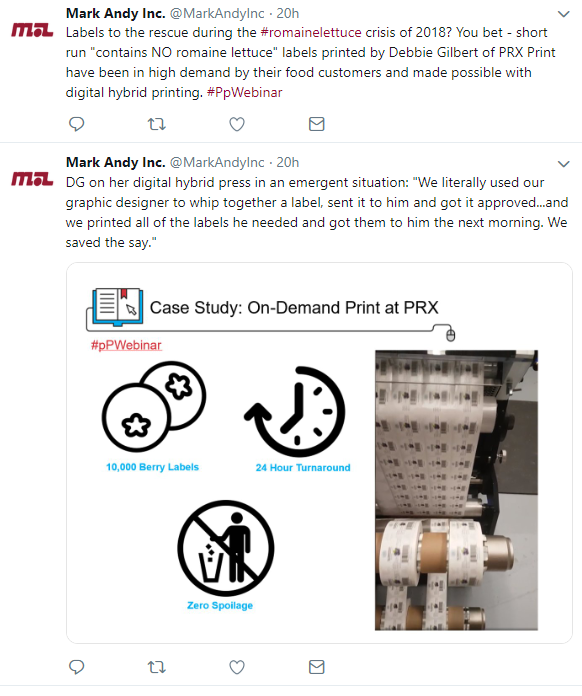 Knoth needed digital solutions that would free up space on their flexo machines for more traditional runs, yet allowing his company to say "yes" to the smaller runs while maintaining favorable margins. For him, the Digital Series and Digital One did just that.
Bummed you missed out? Don't worry – you can listen on demand! To make sure that you don't miss out on flexo or digital printing industry news, be sure to subscribe to the Mark Andy blog here.