More than affordable:
Valuable
Profitability
An average msi of $0.30 – $0.50 coupled with the low capital and investment makes Digital One a profitable solution for micro- to short-run prime label work.
Simplicity
A compact solution combining 4-color digital printing with in-line converting and finishing.
Quality
At 1200 dpi, the electrophostatic (EP) print engine lays dry toner supplied by Mark Andy Print Products to create unbeatable image quality on a click charge-free model.
Support
Our team provides comprehensive training through the entire product lifecycle (before, during, and after installation), from on-site training and in-person Mark Andy University courses to online training videos and dedicated technical service.
A Standard Configuration for Digital Excellence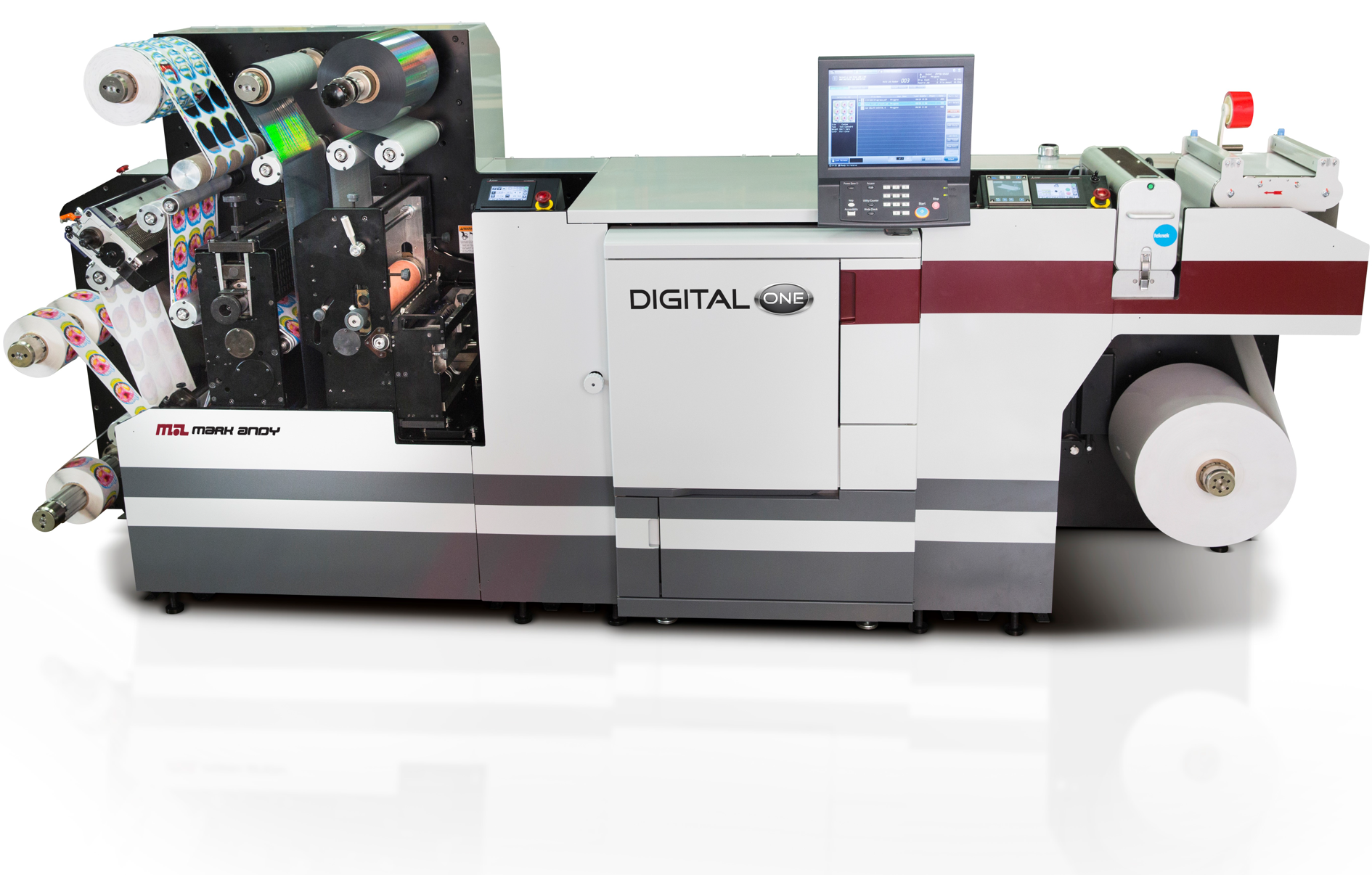 Technical Specifications
CMYK dry toner electrophotography
In-line flexo decoration & converting (spot color, varnish, laminate, cold foil, die cut, strip, slit)
Pressure sensitive stock (paper, BOPP, PET, PP), unsupported paper, tag stocks. And, did we mention, no priming or coating required. That's right; you can use your existing label stock.
A simple and easy to use RIP allows you to print an existing PDF with the click of a button. Now you can gladly accept those next-day orders.
No expensive clean room needed here. An equipped onboard compressor and efficient air cooled UV LED makes installation easy. Only requires a 220v, single phase. And, with a small footprint, it'll fit right in.
Our dedicated support team provides comprehensive training during installation, enabling you to self-service maintenance. It's really that easy. But, don't fear, we offer service plans, if that's what you'd prefer.
Digital One holds a BS5609 certification on Avery Dennison substrate, making it easier than ever to win label jobs in the oil and chemical drum space.
With Digital One, The Possibilities Are Endless
Micro runs. Versioning. Variable data. Stronger competition. Shorter delivery times. These increasing demands are just a few reasons why Digital One is the solution for printing profitable prime labels. See for yourself. View our product gallery of labels and tags showcasing high quality print and maximum efficiency with decoration, die cutting, UV LED curing and finishing, all inline.
Variable Data Printing

Food & Beverage Labels

Health & Beauty Labels

Promotional Tags

Short Run and Seasonal

Wine & Spirits

Durables