August 29, 2018 | Mark Andy Inc.
Brazilian Converter Adds Capacity with Acquisition of Mark Andy Performance Series P7
Grafica Etikor Experiences 30% Growth with Mark Andy Performance Series
Established Brazilian manufacturing company Grafica Etikor has been providing quality adhesive labels for over 20 years. Entering the industry with aspirations to shift regional label printing from offset to flexographic equipment, Etikor quickly built a reputation of technological innovation throughout the country.
Etikor typically serves a handful of niche markets, including specialty beverages (with an emphasis in wine), pharmaceuticals and auto lubricants. Eager to expand their foothold in the health and beauty and food marketplace, Etikor implemented a capital growth plan to incorporate additional machinery to help them increase capacity and high-end application offerings to retain business within their target verticals.
After an exhaustive search for a press that would help achieve their expansion, Etikor leadership concluded that Mark Andy's new Performance Series model – the P7 – would be the machine that provides them the technology needed to further expand their offered capabilities and book of business beyond Brazil.
Grafica Etikor Employees (from left to right) Fabiano Stangherlin, Commercial Manager; Daniel Stangherlin, Production Manager; Jueci Baldasso Stangherlin, Financing Administrator; Ivo Stangherlin, General Manager & Founder
Additional capacity provided by the P7 allowed the converter to do just that; Etikor used their new press as a tool to help them penetrate new markets and experience unprecedented rates of growth. Etikor founder Ivo Stangherlin states "We can say today that we are experiencing a 30% growth in production and consequently in revenue. This is a huge figure to be done by only one new press."
Stangherlin also notes that a few of the standout technologies of the P Series press is its ability to produce high-end, quality labels with only CMYK while also generating much less waste – all at considerably higher speeds.
The P7 for Etikor was configured with 8 printing units and features the following:
Independently servo-driven web transport and tooling

In-line rotary die cutting with QCDC

High-efficiency UV curing system

Cold foil application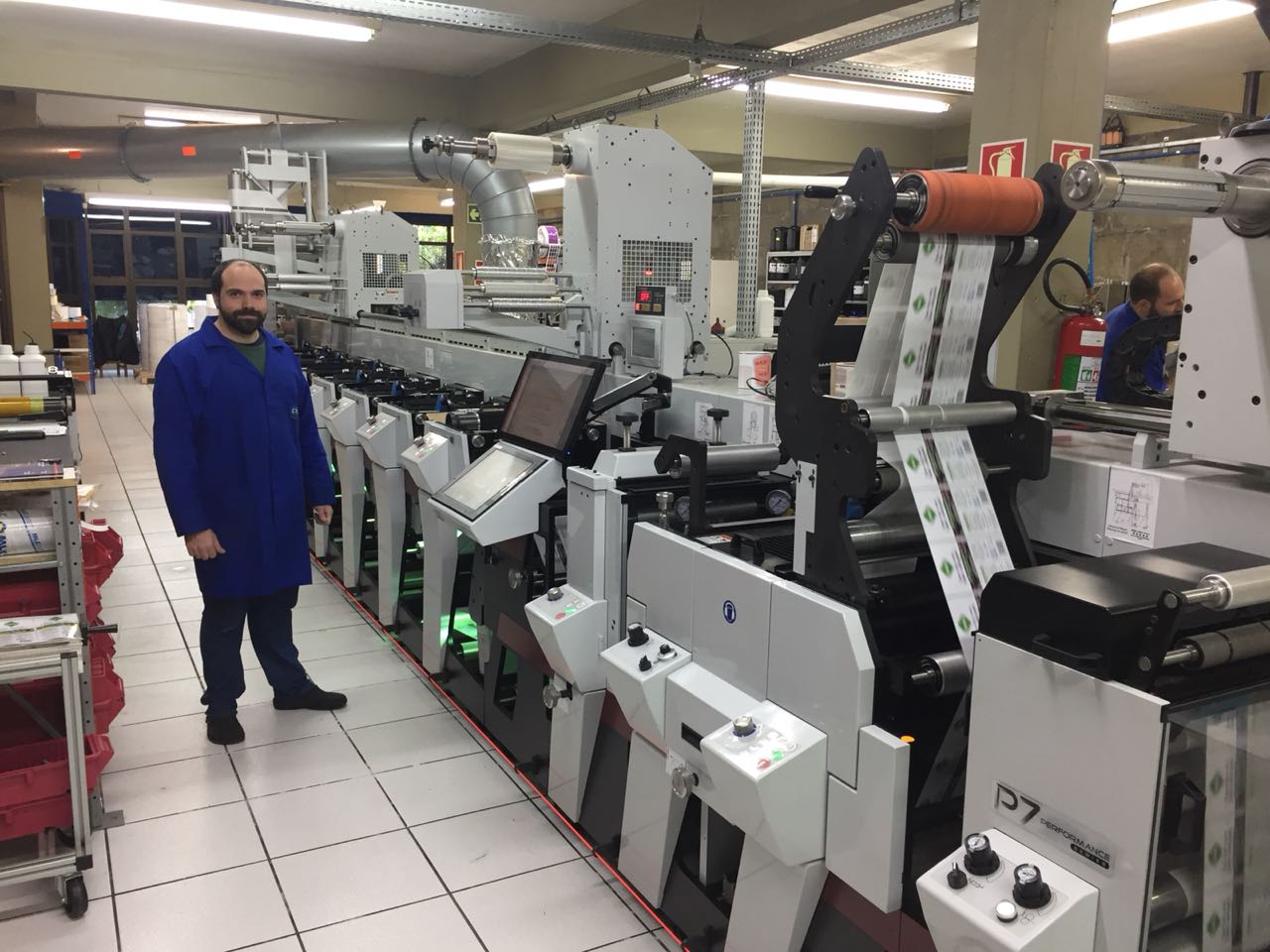 Production Manager Daniel Stangherlin with Grafica Etikor's Mark Andy Performance Series P7
As a result of continued success with the P7, Etikor is already discussing adding additional Mark Andy pressroom equipment to their operation in 2019. They are currently evaluating the benefits of further increasing their flexo volume with an additional P7 and if their growing book of business supports the transition to the True Hybrid production of the Digital Series HD.