November 1, 2018 | Lena Chmielewska
Desmedt Named Label & Narrow Web Company to Watch
Desmedt, a Mark Andy partner, was recently featured in a "Companies To Watch" spotlight by Label & Narrow Web. The mid-sized print business was acknowledged for its strategic investment strategy that has delivered a competitive advantage and a greener net impact on the environment.
Interviewed in the piece was Henri Köhler, General Manager, Desmedt who provides interesting commentary on his perception of the digital market, automation, and pressroom productivity.
Desmedt is based outside of Brussels, Belgium- a city known to many as the home base for Labelexpo Europe. The operation was an early adopter in the initial digital-era, investing heavily in the late 1990's in traditional digital process. Initially a smart decision, with the evolution of Desmedt's business model and customer requests it proved sub-optimal, paving the way to identify other viable capital investments.
Click charges and robust maintenance, and lengthy set-up requirements made the investment in straight digital an ill-fit to their operation and job mix which was still relatively driven by flexo practices. These shortfalls of legacy digital process were taken into consideration when developing our digital hybrid portfolio, stemming from the successful Performance Series platform which revolutionized short-run productivity for flexography.
To bridge gaps in legacy flexo capability, Köhler visited top flexo press manufacturers in search of change. The General Manager was blown away by the Performance Series P7's capabilities during his visit to the Mark Andy European Demo center. Test jobs run at the Warsaw facility included self-adhesive work, multi-layer labels, and screen applications that were usual suspects in Desmedt's daily workflow.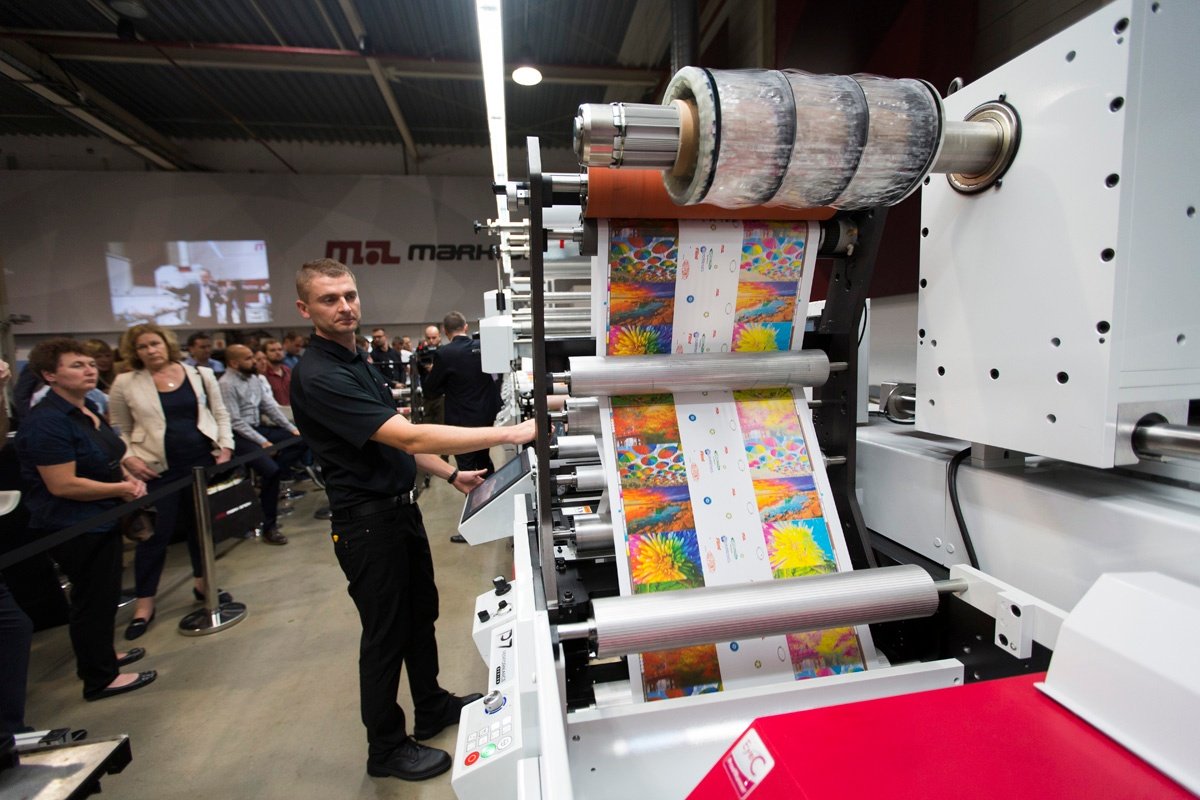 The P7 flexo press in Warsaw, Poland
"When we tested the Mark Andy, we saw short setup times and waste levels that we did not believe were attainable – and in that instance, we dreamed of making digital printing a thing of the past at Desmedt. Once a flexo press is set up, you can run very short or very long runs according to customer needs. And, the low cost of plates is far more attractive than click charges, especially on repeat run work," he provided to Label and Narrow Web.
Ultimately, Desmedt chose to invest in three Mark Andy P7 presses, configured with 430mm (17″) web width and UV LED curing. With the P7 presses supporting uptime and fast makereadies, digital capability of the print business is confined to a smaller percentage of the business that required VDP or mock-up volumes.
Köhler concluded, "Digital technology has its place in the market, but many label converters see it as the answer to everything and overlook what the latest analog presses have to offer." Flexography still has a dominant presence in the label and packaging industry – a presence that we never overlook at Mark Andy as we continue on our developmental road map.
*Content originally published by Label & Narrow Web. You can access the full feature here.
About the Author
Lena Chmielewska, Marketing Manager, Mark Andy Europe, is focused on finding solutions that provide success to label customers. With extensive flexo printing and plate making experience, she's knowledgeable in the label, packaging, and corrugate markets and understands the ever-evolving demands.