December 19, 2018 | Mark Andy Inc.
LTI Experiences Success with the Performance Series P7
At Mark Andy, we're all about long-standing partnerships that foster growth and success with our customers. 
Our relationship with LTI is no exception. Spanning nearly 50 years, LTI and Mark Andy have a rich past and a promising future.
How LTI Began
Leroy Baker, the founder of LTI, has been in the label-making business for over 60 years.  Back in the 1970s, Baker worked at Labels, Inc. With an entrepreneurial spirit and determination to innovate, Baker left his job at Labels Inc. to pursue his own venture – a plate-making operation he named Rotoplate. Baker maintained Rotoplate for nearly 20 years but wanted to get back into the label game where his true passion remained. That was when Labels, Tags & Inserts, commonly known as LTI, was born.  
LTI has been open since 1994 and its motto is, "Your success is our success and our customers are successful."  LTI offers exemplary flexographic and digital hybrid printing worldwide and it is all because Baker had the desire to make an impact in the label industry. 
Leroy Baker, his daughter Rhonda Baker, and her late brother Dennis Baker when the family-owned the flexo printing plate company, Rotoplate.  
The Start of a Partnership
Baker was first introduced to Mark Andy in 1971 while serving as the plant manager for Labels Inc. That is where he met Mark Andy veteran Senior Sales Manager, Gary Gordon, sparking a lifelong friendship.
"I met Leroy in 1971 when he was the plant manager at Labels Inc. I was installing a new Mark Andy 4100 series press, and he was extremely helpful and went way out of his way to aid with the installation," shares Gordon, reminiscing on the start of his career at Mark Andy.  
When Baker founded LTI in 1994 he remembered his friendship with Gordon and the positive experience of working with a Mark Andy press. Baker ended up purchasing a 4 ¼ inch press from OEM as a result. Now, LTI has top-of-the-line flexo equipment- the Mark Andy Performance Series. The label converter also has invested in digital hybrid through the acquisition of a Digital One. Digital One is a dry-toner CMYK machine that perfectly complements the P7 by tackling micro to short-run jobs. By staying ahead of the competition and trusting Mark Andy's technology, Baker, along with his daughter Rhonda, were able to push his business to the top and succeed in both efficiency and customer satisfaction.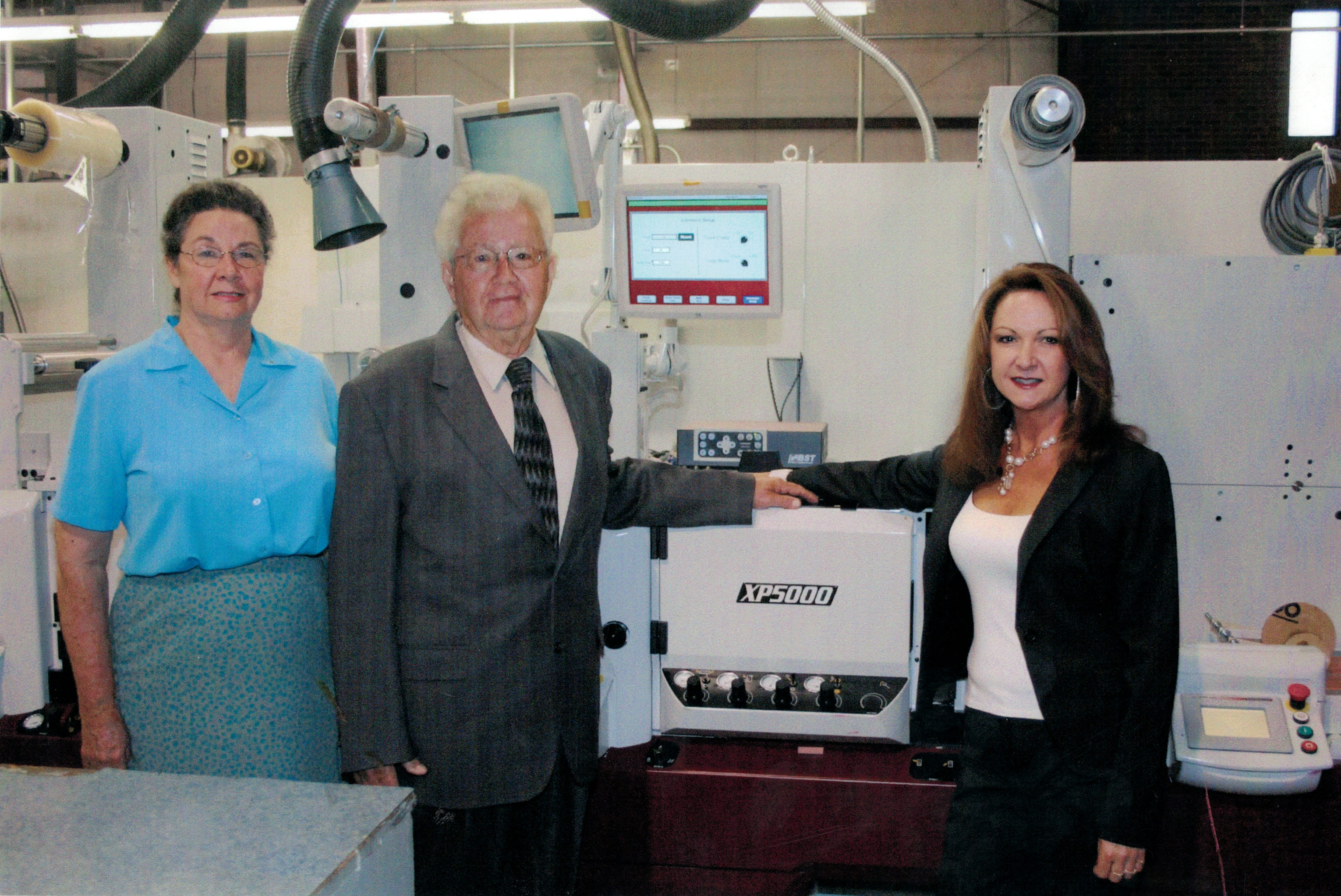 Leroy Baker, and his wife Leoma, with their daughter Rhonda Baker, all the current owners of LTI, with the Mark Andy 5000 when LTI first put it in service.  
Constant Growth
Growth is standard for LTI since it constantly invests in technology to remain the leader of the pack. By keeping their pressroom current, Baker has positioned his company as a champion in the market by consistently raising the bar. LTI sees their recent investments as pieces to enhance efficiency, not just another printing press. This progressive outlook has allowed them to grow their customer base and run an efficient and successful business.  
Looking to the Future
Rhonda Baker, current President of LTI and daughter of Leroy, told us that she did not always see eye to eye with her father. "Sometimes I would try to be more conservative but he wanted to always stay ahead of the competition. I soon was on board with his beliefs. We still have that philosophy today," provides Rhonda.  
After doing some research, Rhonda decided to purchase a 20" P7.  By investing in the 20" P7, Rhonda said they were able to expand their addressable market and be more efficient, venturing into the mid-web market and tackle flexible packaging. LTI was incredibly impressed with the solventless lamination process of the P7, which reduces downtime and pot life issues associated with conventional lamination systems.  

Mark Andy Performance Series P7
After the purchase of the first P7 affected them so positively, Rhonda decided to invest in a second. Rhonda said that having two Mark Andy flexo presses allowed LTI to open up their capacity, go even deeper into flexible packaging and grow globally.  The Performance Series P7 allows for waste savings of up to 50% and efficient and fast print times, drastically changing LTI's business for the better.
Impacting an Industry
When manning a two-color Mark Andy press back in the day, Leroy was unaware of the journey he was about to embark on, the impact he would have on an industry, and that his daughter Rhonda would follow in his footsteps. Like her father, Rhonda trusts her instincts, makes bold business moves, and is driving success into the future.
We asked Gary Gordon, Senior Sales Manager, Mark Andy, what his relationship with Leroy has meant to him over the years. Gordon said, "Leroy Baker is a wonderful man and has a very successful family-operated business. He is an asset to this industry and to Mark Andy."
LTI is a great example of what a company can achieve when they stay ahead of the competition and invest in top-performing technology. By trusting Mark Andy presses, LTI was able to optimize its print jobs and take on more clients.
We wish our friends at LTI nothing but the best and applaud their successes. We cannot wait to see what the future has in store, LTI!    
About the Author
Natalie Gibson was Mark Andy's 2018 Content Marketing Intern. She attends the University of Kansas and studies Strategic Communications and Business with an emphasis in Marketing. Natalie has a passion for social media and writing and enjoyed learning new skills during her summer at Mark Andy.