March 20, 2019 | Lena Chmielewska
Czech Label Printer KZK Installs Mark Andy P5E Flexo Press
One of the Czech Republic's leading label converters, KZK, has installed a Mark Andy P5E Performance Series press at its facility in Brno. The purchase and installation were managed by Radim Krutis of Enginne, the Mark Andy distributor for Czech and Slovakia, and the new P5 joins three legacy Mark Andy presses at the plant. The company, which was established in 1995, is owned and managed by Bronislav Kuda and now employs 45 people in a factory that was specially extended in 2018 to house the new P5.
Although an existing Mark Andy user, the choice of a P5 was not a foregone conclusion. "The older presses still print good quality, but we needed to invest in up to date technology that would allow us to add value," Kuda explained. Following print trial visits to manufacturers in Switzerland and Denmark, it was a demonstration at the Mark Andy showroom in Warsaw that convinced him a P5E was the right machine. "Our printers immediately felt comfortable with it and were able to run high-quality at high speed in no time at all. They said it was easy to operate and quick to changeover between jobs," he added, highlighting the open ink tray and cylinder arrangement of the press.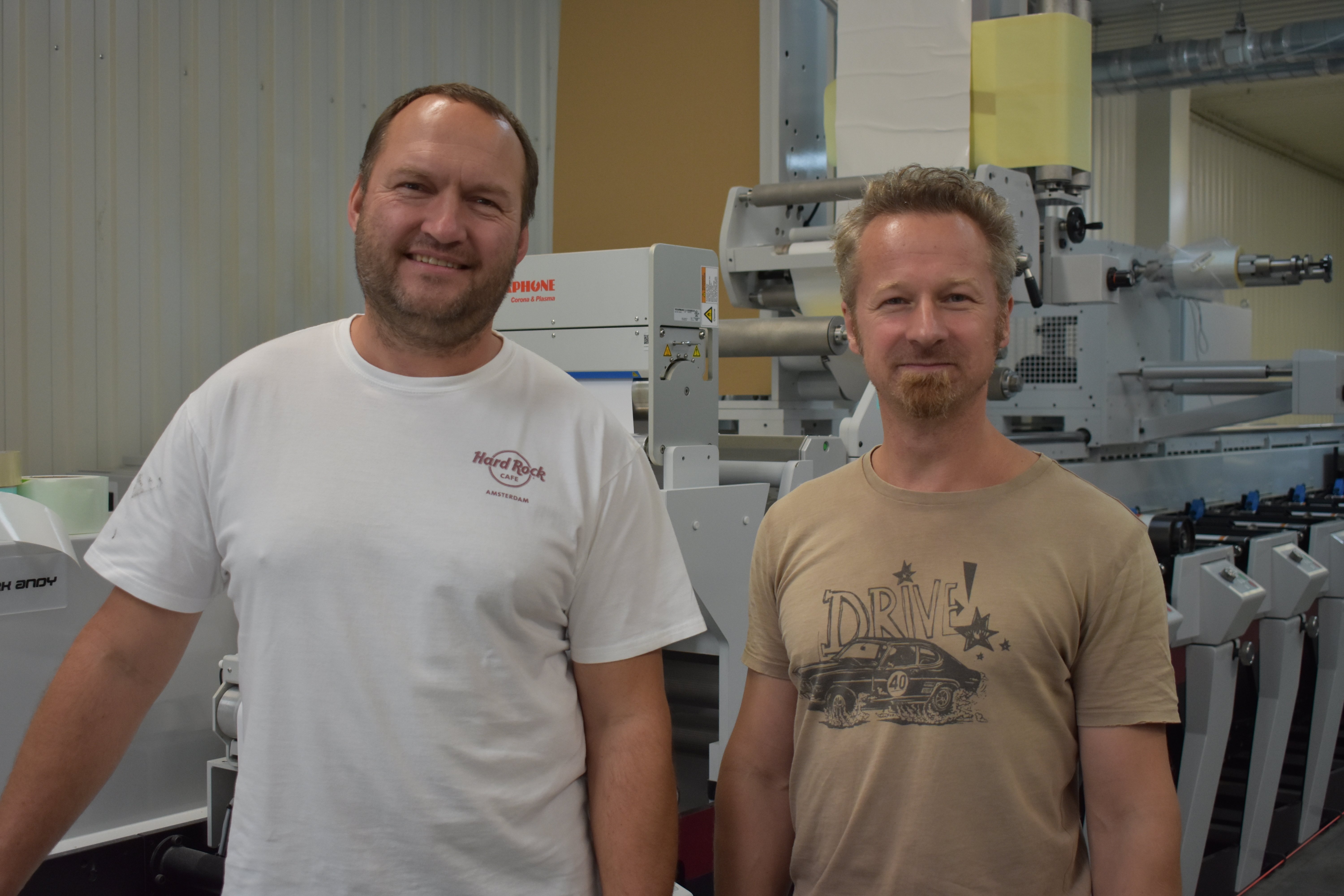 Bronislav Kuda (left) and Radim Krutis with the new Mark Andy P5 at KZK in Brno
With existing six-color capability, KZK elected to specify the new P5 as an eight-color press. It has a 13" (330mm) web width and is well-equipped, with water-cooled impression cylinders that allow it to run filmic substrates and an overhead rail system that permits movable turn bars and cold foil units to add production flexibility. In addition, the P5 can print on the reverse side and there is a special module for producing peel-off labels. It also has two die cutting stations.
"With customer demand changing so quickly, we saw no point in buying a basic machine. As far as possible we wanted to future-proof our investment," Kuda stated. The P5 is servo driven with each plate cylinder independently powered, and the Preregistration system automatically positions them before the press runs. Full job changeovers take less than five minutes. Web tension is finely controlled from the operator's monitor and automatically adjusted throughout the print run. "High speed, high quality and high productivity – the P5 ticks all the boxes," he said.
Installation and commissioning took only one week followed by a week of initial operator training from Mark Andy's Technical Team, assisted by Enginne. Once the operators and machine had settled, an additional advanced training course was arranged to familiarize KZK with the full added-value capabilities of the P5. According to Bronislav Kuda, the new P5 is a world away from running the older legacy machines. The degree of automation and ergonomic design make it easy to run and with only 135cm web path between each unit, the company has seen waste levels fall sharply.
Currently, 95% of KZK's work is labels, with substrates varying from paper to films like PE, PVC and PE. Platemaking is outsourced at local specialists DMF in Brno, and the plates are then mounted in-house using cameras for the accuracy required to produce top quality work. The company's customer portfolio spans the food, chemical, automotive, brewing and wine growing industries, with a wide variety of job lengths from a few thousand meters to jobs that take several days to run-off. For short-run jobs of 1000 – 2000 meters, KZK has both dry toner and inkjet print capacity in-house. Other offline finishing techniques include screen printing, hot foil stamping and inspection/rewinding.
With his engineering background Mr. Kuda has an educated eye for machinery and is well pleased with his investment in Mark Andy technology. "The P5 is well designed and solidly engineered. Our operators love it, and it has added a new dimension to our production capability. And, the service and support from both Enginne locally, and Mark Andy in Warsaw, has been excellent."
About the Author
Nick Coombes, Director of The Publicity Studio, is a well-respected veteran in the label and folding carton industry. With an international reputation and passion for printing, Nick provides an independent voice and an extensive network of contacts that he's established over the past 40 years.