September 19, 2018 | Lena Chmielewska
Hybrid Forum Sends Powerful Message to Market
Mark Andy recently held The Power of Hybrid Forum in Warsaw, Poland. The event welcomed more than 300 converters to our European showroom. CEO Kevin Wilken kicked the event off, sharing with attendees that the company now has the most comprehensive portfolio of label and packaging technology of any manufacturer.
Mark Andy CEO Kevin Wilken kicked off The Power of Hybrid Forum
He said: "We have come a long way in a short time in Europe thanks to our comprehensive and competitive product range but mostly the efforts of our European team, whom I congratulate for making Mark Andy the number 1 supplier of narrow web presses in 2017."
On working display were four presses, a Rotoflex rewinder, and numerous ancillary equipment including a Martin Automatic unwind splicer and the latest ProLED UV curing systems. All of the presses showed how hybrid technology can be applied to the label market with maximum effect, whether producing filmic labels at 300m/min on the Performance Series P7, or high-quality short run labels on the toner-based Digital One, to outstanding work coming off the new seven-color Digital Series HD, which was making its European debut, ahead of Labelexpo Americas in Chicago later in the month. In addition, recently acquired Presstek showed what can be achieved on its 34 DI offset press fitted with ECO UV.
GEW & Flint Group representatives talked about low-migration & UV curing
To help converters keep up to date with the latest in UV curing and low migration ink technology, each session was begun with an informal discussion between Marcus Greenbrook of GEW and Henrik Bernquist of Flint Inks. Topics included the difference between conventional arc lamp and LED UV systems, and the relative merits and costs of running each, and how low migration ink technology is playing a greater role, especially in food packaging, and the strict guidelines that need to be observed to ensure there is no contamination in the printing process.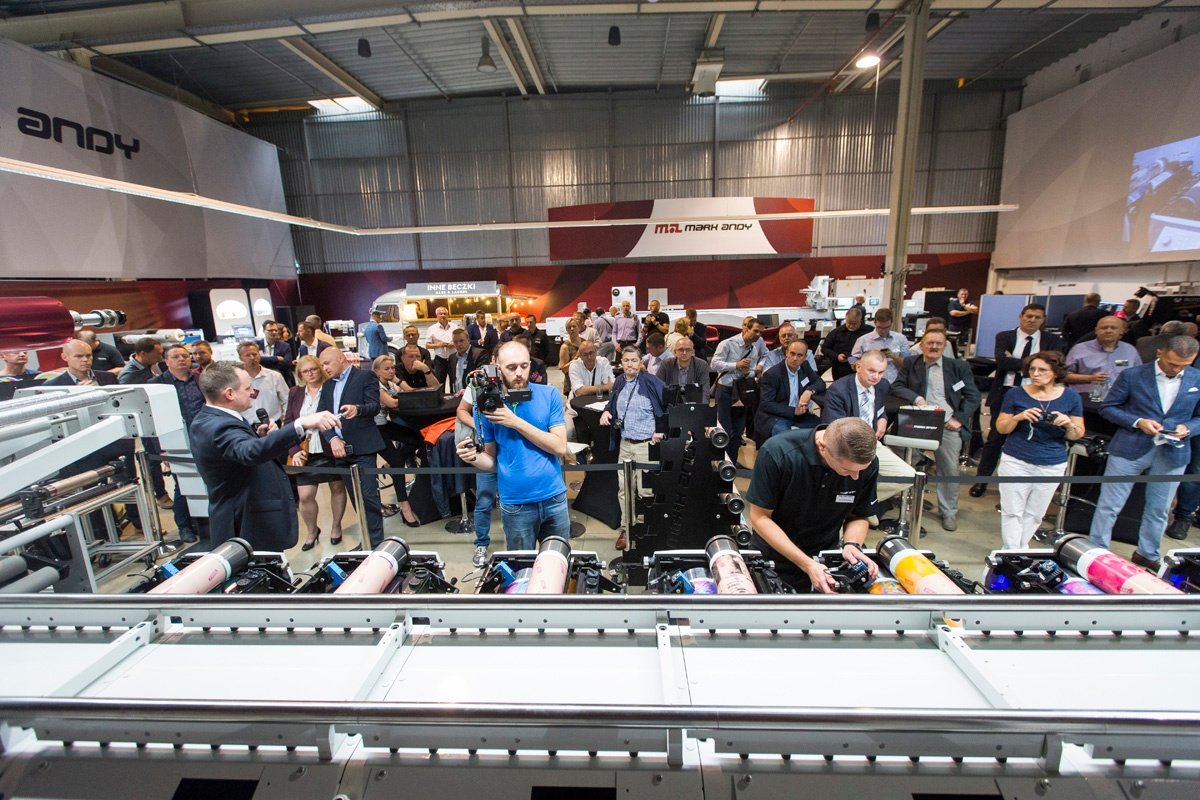 The NEW! P7 in action
The demonstration jobs run off during the event showcased the wide range of substrate capability of the various presses on show. On the P7, a vodka label was printed on clear foil using Digital Plus Screen and CMYK flexo colors. Digital Plus Screen offers a high-quality digital inkjet alternative to screen printing, producing an opaque white in a single application that is unmatched. A second job on BOPP using seven colors was run off at 300m/min with splice on the run using a Martin MBS unit.
Introduced as the only True Hybrid on the market, with all development undertaken by Mark Andy, the Digital Series HD, which now adds Orange, Green and Violet to CMYK plus W capability, was demonstrated at 75m/min (240 fpm) on three jobs. A whisky label used CMYK plus White, and gold cold foil and a matte varnish, while a gel/soap label used CMYK plus orange with cold foil and patterned matte varnish. The third job was an orange juice label using CMYK plus Orange and a gold flexo spot with a matte varnish on a white paper. The Digital Series HD is a modular line, a true hybrid platform, and fully adaptable to changing market needs, making it a future-proof production tool for high quality labels.
Joe Calmese, Vice President, Mark Andy led demos on Digital Series HD
The Digital One entry-level toner press, which was launched in 2016, is intended for high-mix, low volume work and has enjoyed sales from both commercial label houses and from the in-plant production market, like micro-breweries and craft goods manufacturers. It was shown printing CMYK with a Kurz cold foil on white paper, with other jobs showing its personalization capability and the addition of a VDP live photo.
Labels were brought to life on various local beverages and products for attendees
Since its acquisition earlier this year, Presstek has merged its DI sheet fed offset press range into the Mark Andy portfolio. The Presstek DI is a waterless offset press designed for medium to short applications on a wide range of sheeted substrates ranging from paper and board to plastics in format sizes up to 520 x 365mm (B3).
Attendees listen attentively to Paul Conetta of Presstek talking all things DI
Optional capabilities include waterless with IR drying, aqueous coating, and the latest ECO UV technology. At the Forum, it was demonstrated printing flat sheet cookie cartons in CMYK with ECO LED UV to complement the labels produced on the Digital One press.
On the finishing side, the Rotoflex VSI 440 fitted with Eye-C Vision Quality Link workflow linked the print to the converting process. Capable of running at 300m/min, the Rotoflex VSI is designed for inspection, slitting and rewinding of pressure sensitive material. Fitted with the eDrive 2.0 drive system and URC 2.0 control system, the Eye-C system on the Rotoflex monitored the print, detecting any defect for easy removal.
Artur Gondek conducting a Rotoflex demonstration
As part of its educational program, Mark Andy launched a competition earlier in the year that invited students to design a label that could be printed flexo or digital. The winners were Olena Onyshchuk from Kiev (Ukraine) and Lydia Haussmann from Stuttgart (Germany). In addition to seeing their own work produced in Warsaw, the students were given a VIP day-out that included dinner in a downtown restaurant with the Mark Andy team – this proved a great opportunity for the company to learn more about the current situation at printing schools in different countries.
Students pose with packaging applications and Mark Andy leadership
Concluding the highly successful event, European Managing Director, Tom Cavalco commented: "The label market reflects the high volatility in consumer demand and as the leading solutions provider we have to ensure that we can respond quickly to any variation. We now have a portfolio of narrow web press technology that allows Mark Andy to cater for any market requirement, and were delighted to show this to all the converters who attended."
As a forum for hybrid technology, the event highlighted how far the market has moved, and how various combined applications of flexo, offset and digital printing can serve different market sectors without compromise, allowing converters the opportunity to enjoy the best of both. It also proved a useful curtain-raiser for Labelexpo Americas in Chicago, at which the newly announced Performance Series press P9, specially designed for flexible packaging production, will be exhibited in 660mm (26") format. The new P9E is the ideal solution for label converters looking to grow into new markets.
About the Author
Nick Coombes, Director of The Publicity Studio, is a well-respected veteran in the label and folding carton industry. With an international reputation and passion for printing, Nick provides an independent voice and an extensive network of contacts that he's established over the past 40 years.